Blood Apparition can be one of the most confusing achievements to complete in Diablo Immortal. Completing the actual quest is not hard but the problem is that most players have absolutely no idea about where do they need to complete it at Dark Wood. It's description in Dark Wood achievements list just says "Seal the Crimson Blood to Dispel the Blood Apparition" but doesn't mentions any other information. But you don't need to worry because in this post i will not only show you the Blood Apparition and Crimson Bloom location but also fully guide you on how to complete this achievement. So let's check it out!
Blood Apparition Location In Diablo Immortal
Although most players get confused on where do they need to go for this achievement but actually its quite easy to find out Blood Apparition location. In order to complete this achievement you need to visit Fetid Swamp at Dark Wood, which is located just next to Blood Rose Waypoint. When you open Dark Wood map and check the Fetid Swamp region, you will find a large weird looking mark there (almost like a devilish creature). This is exactly the location where you need to go in order to complete Blood Apparition achievement. You can check this location circled in red color in the image below.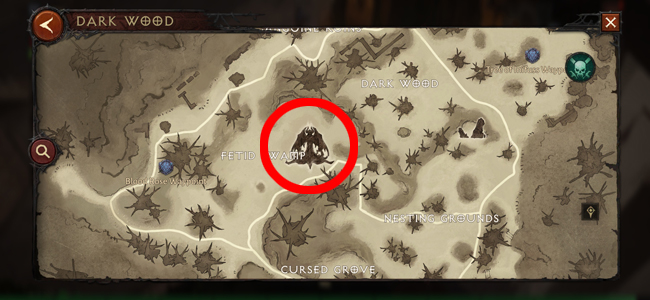 When you visit this location you will find a giant red colored creature (Blood Apparition) with her large tentacles submerged in the swamp. In the image below you can see exactly how this location looks at the zone.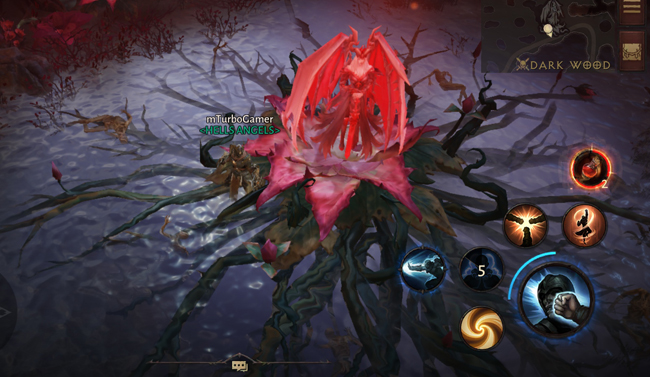 Crimson Bloom Location In Diablo Immortal
The description of this achievement says "Seal the Crimson Bloom to dispel the Blood Apparition". From the above information you now know blood apparition location but where do you get crimson bloom from? Well, you can find full information below.
When you visit Blood Apparition at Fetid Swamp as mentioned earlier, you will get a New Event notification on your screen. A side quest called "Vampire Blooms" will appear at left side on your screen. This quest will require you to kill 7 Cultists claiming the Blood Flower. These cultists will spawn just next to Blood Apparition, so just kill them to complete this step.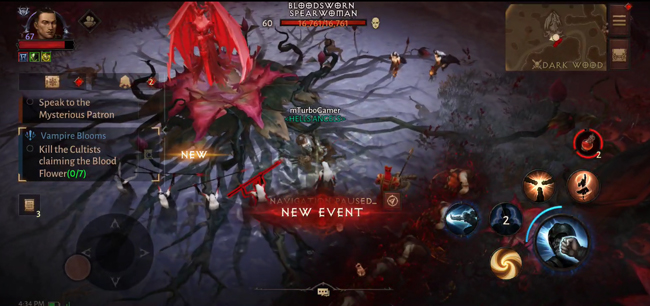 The second step of the quest will require you to dispel the Countess's Bloody Image. You will now see a magnifying glass button on your screen. Just tap on the magnifying glass to complete this step and that's it! Blood Apparition achievement is now complete. You will then get some Enchanted Dust and basic gears as a reward.
Also Read:
Zaerhud Spawn Location & Time In Diablo Immortal
How To Get Gem Fragments In Diablo Immortal
How To Farm Enigmatic Crystals In Diablo Immortal
So you can see that completing this achievement is quite easy but the main problem that many players face is that they don't get the "Vampire Blooms" quest on visiting the location. Some players reported that they weren't able to trigger this side quest even after staying there for a few hours and killing numerous enemies around the area. If you don't get this side quest then you won't be able to complete this achievement. So how do you trigger the Vampire Blooms quest then?
In my testing i found that whenever i visited blood apparition using Blood Rose Waypoint, i wasn't able to trigger the side quest. Since this waypoint is much closer to the quest area so it's obvious that most players will use this route to reach the location. However i didn't get the achievement's side quest probably because another side quest called "Cleansing The Rot" is triggered when you visit using this route.
When you reach the location using Blood Rose Waypoint, this side quest to kill 20 enemies at the zone will be triggered. So most probably the Vampire Blooms quest is not triggered due to that. May be there is a certain cooldown time between two side quests? So the question is how did i triggered the required side quest?
Well, i went back to Westmarch and then used Tree of Inifuss Waypoint at Dark Wood to reach blood apparition at Fetid Swamp. In the image below you can the exact route i used which helped me to trigger the required side quest.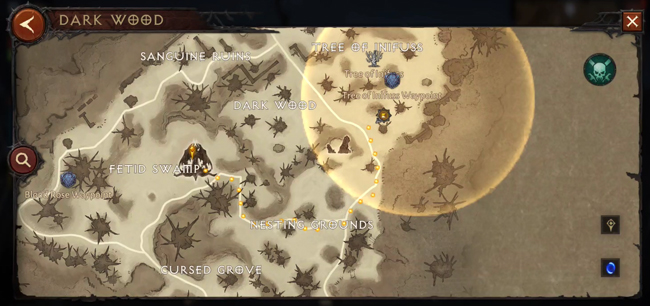 By following this route you should be able to get this side quest but if you still don't get it then try to fill the corruption meter for Purify the Corruption event to 100%. When i got this side quest my corruption meter was at 100% (but i hadn't completed the event yet) so you can also try doing that.
So i hope now you know about blood apparition and Crimson Bloom location together with how to complete this Dark Wood achievement in Diablo Immortal. Please Make Sure to share this post and visit this Website everyday for more Tips, Tricks and Guides on Diablo Immortal!